Allwell Rents
Mission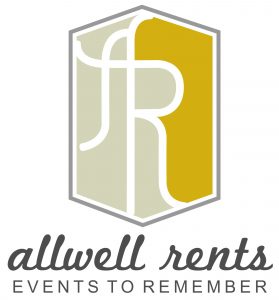 Each and Every Event is a Success
Success is defined as a specific set of happy people.
The following people should be thrilled with their event.
The Planner. The individual in charge of planning and coordinating all the aspects of your event or wedding.
The Venue. People in charge of making the facility or grounds where the event is being held, before, during and after the wedding or event.
The Caterer. People in charge of preparing, delivering, the set up, serving, busing and the tear down of food and related items.
The Payer. The Financier for the event or wedding. This is not intended to be the person who is paying us. Rather it is the funder of the event or wedding as a whole.
The Honoree. In the case of a wedding, the happy couple. For other events it may be the guest of honor, retiree, or even the customers of a company.
When this is achieved for every event, Allwell Rents has fulfilled our mission.